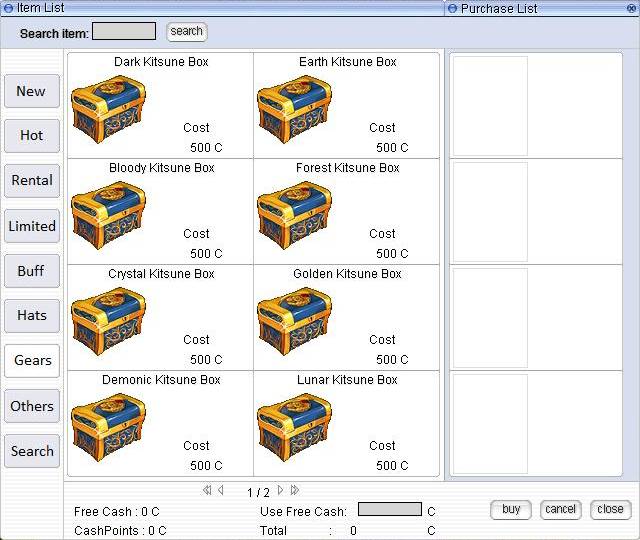 Access the Cash Shop by clicking on the button in the upper right corner, just to the left of the mini map. You can access this at any time. Once it's open, select the category you want on the left, and the available items will appear in the middle. Use the <, > buttons to change pages and the <<, >> buttons for first or last pages respectively. You can right click on these items to view the full description as if you were viewing the item in your inventory. Your Cash Points, and Free Cash (not implemented), will appear at the bottom. If you want to use some Free Cash, you type in the amount to use in the box next to "Use Free Cash". You can only purchase up to four different items at a time by dragging the one you want to the "Purchase List" on the right. When you're done deciding, click on "Buy" to purchase, "Cancel" to empty the cart or "Close" to just close the window without doing anything.
To get Cash Points, you must first be logged into the website, and then either donate or vote for points. When you donate, make sure to not close the page until you return to the website from PayPal, otherwise you won't be automatically credited for the donation. Voting will give you 20 Cash Points in a day if you use all the vote sites. Donating will give you 100 Cash Points for every $1 donated.
Hats Tab
Lord Kaho's Horn
500
Wickebine's Black Cat Ears
Customised - Slotted
500
Poring Cake Hat
Customised - Slotted
500
Pussy Cat Bell
Customised - Slotted, All Stats + 1, Enables use of

Level 5 Heal

.
500
Black Ancient Valkyrian
500
Blue Ancient Valkyrian
500
Brown Ancient Valkyrian
500
Cyan Ancient Valkyrian
500
Gray Ancient Valkyrian
500
Green Ancient Valkyrian
500
Orange Ancient Valkyrian
500
Pink Ancient Valkyrian
500
Purple Ancient Valkyrian
500
Red Ancient Valkyrian
500
White Ancient Valkyrian
500
Yellow Ancient Valkyrian
500
Ad blocker interference detected!
Wikia is a free-to-use site that makes money from advertising. We have a modified experience for viewers using ad blockers

Wikia is not accessible if you've made further modifications. Remove the custom ad blocker rule(s) and the page will load as expected.